Jesus: His Life-An 8-part History Channel series continues each Monday night through April 15 from 7-9 p.m.
WMU
The day group will meet at the church Thursday, April 18 at 10 am.
Night group will not meet this month.
Smoking BBQ for FUGE
Enjoy mouthwatering meat and support our youth going to summer camp.  Order and pay for a $40 Boston butt by Sunday, May 12.   It will be available for pickup at the house on Friday, May 17.  Place your order with a youth or Heath Johnson.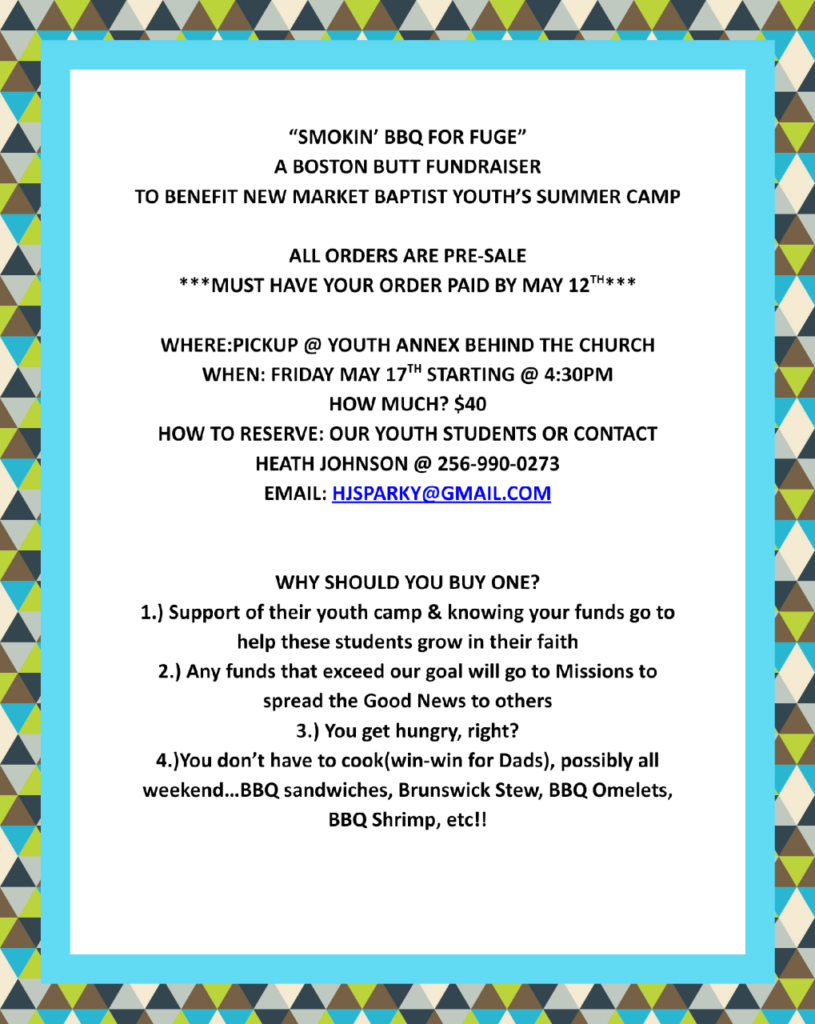 Nursery Volunteers are needed.
Hostesses for Sunday Dinners
Hostesses are still needed for several months this year.  Sign-up on the bulletin board in the basement.
Date to Remember: There will be a gospel singing here on Saturday, May 11.
Youth Mentorship Program
If you would like to share information about your profession or skills with the youth one Wednesday night, sign up on the table in the foyer.  If you have questions, contact Ray Zimmerman, rayzimm@hotmail.com or 256-797-2427.
Operation Christmas Child
Each month, different items will be listed that you may bring for the boxes.  This month please bring washcloths  and hand towels.
Vacation Bible School   June 10-14 (evenings)
  VBS Program:  "IN THE WILD" for Amazing Encounters with Jesus
Throw on your camera strap and buckle your seatbelt. We are going to take you on a wild adventure—with elephants and egrets, polar bears and penguins, cockatoos and crocodiles. As we seek out exotic animals, we will also find snapshots of real-life encounters with Jesus in Scripture. Kids go from bewildered to believing as they get In The Wild at this summer's VBS.  Theme verse:  But these are written so that you may believe that Jesus is the Messiah, the Son of God, and that by believing you may have life in his name. John 20:31
 Motto: Zoom In! Focus on Jesus!
Sign up to help in VBS on the table at the back of the church or downstairs by the bulletin board.
Sunday School
If you do not attend Sunday School, you are encouraged to begin attending one of these classes.  We have wonderful teachers and classes for all ages.
Nursery                                                  Adult I              Randy Green
Pre-K-Grade 2   Gwynn Pyle                 Adult II             Sara Rotenberry
Grades 3-6       Kaye Jackson               Adult III             Dan Farmer
Grades 7-12     Matt Cantrell                Young Adults    Monte Davis
Women             Jenny Smith
The children and youth meet on Wednesday nights
Youth (grades 7-12) at 5:30 p.m.
Children ( grades 1-6) at 6:00 p.m.
 Birthdays This Week
April 16  Noah Green